Sponsors and Partners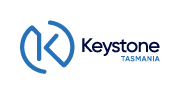 Keystone Tasmania (the Tasmanian Building and Construction Industry Training Board) is the peak organisation facilitating workforce development in the Tasmanian building and construction industry. Established in 1990, Keystone is funded by a levy on building and construction projects over the value of $20,000. A Board of Directors with broad industry and education experience administers the allocation of funds across all sectors of the industry, state-wide.
Keystone Tasmania promotes quality pathways to employment for students and jobseekers, supports those in employment to develop their skills, obtain industry accreditation and pursue career opportunities, and champions industry-wide initiatives that promote diversity, innovation and advancement in all areas of the construction industry.
For more information, please visit: https://www.keystone.com.au/
---


Bluemont supplies a limited selection of the world's best tested & proven environmental solutions for Erosion Management, mobile Fire & Water Movement Systems and Flood Prevention.
The Bluemont Kyowa Rock Bags are engineered specifically for erosion and scour protection use on:
Bridges: rail and road,
Rail embankment stabilisation,
Civil works; roads, pylons, road cutting stabilisation,
Ports and offshore submarine cables & pipes, wharfs, piers, jetties, scouring, table drains, river banks, beaches and inland waterways.
Projects include: Wamberal Beach, NSW, Collaroy Beach, NSW, Lyttleton Port upgrade, NZ which included physical model testing at Manly.
Also road and rail bridges, road upgrades and boat ramps for companies such as ARTC, RoadTek, Lendlease and local Councils.
For more information, please visit: https://www.bluemont.com.au/erosion/kyowa-rock-filter-bags/
---

The Department of Home Affairs has dedicated Business, Industry and Regional Outreach Officers located in each State, to promote the skilled visa program. Dedicated Global Talent Officers promote the Global Talent Visa Program, which strengthens Australia's ability to compete for the brightest and best skilled migrants from across the globe.
For more information please visit www.homeaffairs.gov.au/working-in-australia
---

Axis enables a smarter and safer world by creating network solutions that provide insights for improving security and new ways of doing business.

As the industry leader in network video, Axis offers products and services for video surveillance and analytics, access control, and audio systems.
Axis has more than 3,000 dedicated employees in over 50 countries and collaborates with partners worldwide to deliver customer solutions. Axis was founded in 1984 and has its headquarters in Lund, Sweden.
For more information please visit www.axis.com
---

Capral Aluminium commenced operations in Australia in 1936 and is Australia's largest manufacturer and distributor of aluminium profiles. Capral has an extensive distribution network, consisting of major distribution facilities, regional and metropolitan centres with an extensive range of products and logistics capabilities. Capral is a market leader in supply to fabricators and distributors, focusing on the Residential, Commercial and Industrial segments.
For more information, please visit www.capral.com.au
---

Roads & Infrastructure Australia is a leading print and online resource for the roads, infrastructure and civil engineering professions in local and state government sectors, as well as consultants and contractors within the private sector.
Roads & Infrastructure Australia is dedicated to keeping industry up to date with the latest developments in Australia's booming infrastructure sector.
For more information, please visit www.roadsonline.com.au